Dental IT Services
About Us
We are a full-service Calgary MSP (Managed Service Provider) and IT agency providing dental clinics remote and on-site support in Calgary, Red Deer, Lethbridge, and surrounding areas.
Network and computer support, SEO and local search, website design – we can help you!
Why Choose Us
We understand healthcare IT and dental clinic technology and we make sure you don't have to worry about computer downtime, digital privacy/HIPAA security, or disaster recovery. We take care of all of it for you, and more.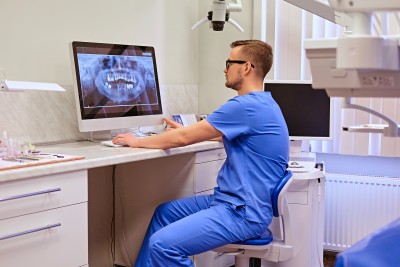 They are great and take care of everything
"They are great and take care of everything. We've worked with them for years and they are quick to respond and fix any IT issue we have. I highly recommend them!"
Our clinic is now running smoothly
"We really appreciate your help with our recent computer problems. Our clinic is now running smoothly and it's nice to not have to worry about our network anymore."
Dental IT Services Pricing
No hidden costs or month-end surprises!
Break-Fix
Just call us when you need us
No monthly commitment

Any service we offer, including

  Dental IT Services

  SEO and Local Search

  Website design
Monthly Service
Everything you need, one flat fee
Designed for dental clinics

On-call tech support

24/7 monitoring

Endpoint Protection (Anti-Virus)

Updates, maintenance, backups, etc
Annual Contract
Created specifically for you
Designed together with you

May include hardware/software upgrades, which can turn a capital expense into an operating expense, which is very useful come tax time

Can be as comprehensive or simple as you want
Letter of Reference
To Whom it may Concern, 
This letter is to highly recommend Mr. Ian McAnerin as a dental office IT consultant.  Ian has been our office IT officer for several years – both at Bentley Family Dentistry as well as at 52nd Street Dental in Red Deer.  Ian has an impeccable track record within our offices.  He has redesigned both of our networks as well as developing our backup solutions.  He is available very promptly every time an issue comes up with practical solutions.   Our networks are quick, reliable and have not cost us a single minute of "network-caused downtime" in several years even though we use different software and different hardware solutions for each clinic.  
 Please feel free to contact me if you have any questions.
 Dr. Scott Wyzykoski, DDS
Bentley Family Dentistry
403-658-8080
Typical Dental MSP Monthly Services
Workstation Cleanups
Virus and Malware Removal
Desktop Optimization
User Management (Add, Remove, Change, rename, etc)
Vendor Management
Network Reviews and Consultations
Business Application Support
Expert Microsoft Office/365 Support
Managed Microsoft Updates and Patching
Advanced Endpoint Protection (Anti-Virus)
Hardware and Software Audits and Inventory
Performance & Preventative Maintenance Audits
VPN and Remote Access Management
Computer and Server Health Audits
24 x 7 Monitoring and Management Tool
Remote Support (7am – 7pm)
Email and Network Security Audits
Average Response time of less than an hour
We provide support for all computer hardware and software, including dental software such as:
Dentrix
ClearDent
Gold Dental
Exan Power Practice
ABELDent
MaxiDent
OpenDental
and many more!
We also have experience with other dental clinic-related hardware and software such as for EOB (iTrans/CDANet), sending patient files (CDA Send, Brightsquid) and imaging technology (DEXIS, Safecom, Patterson Imaging, Schick, Sidexis).
We are experts in, and keep you fully compliant with, patient privacy regulations (PIPEDA, PIPA/HIA, HIPAA).
We can also do your dental website design, SEO, social media, and digital marketing.
We understand dental industry technology and work to make sure that you don't need to worry about lost time, patient information, or business opportunities.
Our job is to keep you up and running no matter what!
Call now @ 1 403 880-1409 or send an email to [email protected] for a FREE consultation.